New Years Eve (Eve) Phaser Night
04 December 2020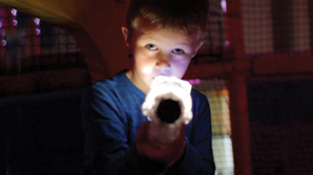 We hope all our customers and their loved ones are safe and well as we exit this second national lockdown. Being in tier 2, we are delighted to be able to open once again, with the same 'Covid-secure' protocols in place as before. We are planning another phaser evening in the Christmas holidays and due to limited capacitites expect ticket demand to exceed supply. Book in advance to avoid disapointment!
Radio alert... it's another Lunar Landings meteoric event... The Asteroid Trunkesar will pass closer to the earth than any of our satelites... We believe this is a desparate plan to mask an alien invasion... can you help Captain Lewey Hoops stop them?
Join the crew aboard SS Clash Landings for an exciting evening of phaser tag! Whether you come alone or bring your friends it's sure to leave you feeling like a lunar lemur!
The battle will commence once the teams have been formed, the safety brieding explained, and the laser guns switched on. Come aboard our giant space station themed play frame for 6 adrenaline pumping phaser game and DigiWall fun. Disco lighting and music create an atmosphere that's out of this world.
Grab your place at our next phaser night by booking a ticket below!

New Years Eve (Eve) Phaser Night | Wednesday 30th December 2020 | BOOK HERE