Lemurs love to climb and so do we! There is a token system for our climbing zone. Each child ticket comes with one age appropriate climbing zone token. We operate this system so that all children can use the climbing facilities at least once when they visit and to prevent excessive queues. When the centre is quiet the token system is suspended and more turns to climb should be available.

Sky Tykes Low Ropes Course
A perfect introduction to climbing.
For children below 1.2m and at least 2 years old, this course is a great way to build confidence and balance. The course is made from several different rope elements all with differing degrees of difficulty. The SkyTykes course requires parental supervision.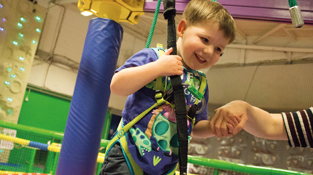 DigiWall
Our interactive climbing wall.
Lights, sounds and all action. Climb up, down, left and right, follow my leader or catch the eggs. A cross between a climbing wall and computer game, the DigiWall has 6 games to choose from.
The DigiWall is for children aged 3+, adults may join in if the visitor numbers allow, however, priority will always be given to the children.
Please note: The DigiWall is currently out of action while our landlords undertake some work on this part of our attraction. Our two other climbing activities are unaffected.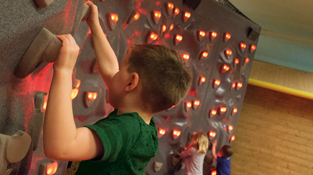 LED Climbing Wall
A traditional wall with a difference.
Swing onto our 5m high, 4 lane climbing wall with illuminated holds and beat the clock timers. Can you set the fastest time of the day?
The minimum weight for the climbing wall is 2st (12.7kgs) with a maximum weight of 17st (108kgs). Adults may join in on the climbing wall if visitor numbers allow, however, priority will always be given to the children.