Christmas at Lemur Landings!
01 December 2019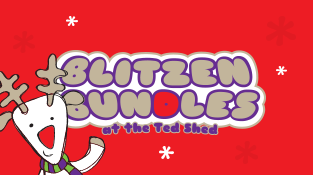 Brrrr!! It's a turning a little chilly. As the Winter starts to set in it's time to find good things to do in the warm and dry. Luckily, there is SNOW much fun to be had at Lemur Landings Children's Entertainment Centre this festive season for you and your family. Why not pay us a visit and try our Christmas Bear magical experience here at Tower Park, Poole.
Back by popular demand are our Blitzen Bundles. All the fun of a visit to Lemur Landings with a Ted Shed 'Be My Christmas Bear' experience too! This premium admission bundle will save you £5.70, if you are one of Lewey Lemur's troop members and £3.70, if you're not. This admission includes one free adult (or two if you are a member) a choice of a large create-a-snowman or reindeer bear in the Ted Shed and a glitter tattoo! All for one great price! It's a great idea if you have long distance relatives visiting before Christmas that would like to something memorable with your child.
Members £18pp | Non-members £20pp | Also available for groups* 10+ £15pp
*to qualify for this price there must be a minimum of 10 children taking part in the bear building activity, perfect for end of term treats with a bunch of friends or nursery or playgroup outings.
This bundle purchased separately would cost £23.70, so secure yourself a great deal by booking a Blitzen Bundle today! The package is available between 2nd - 24th December, so why not pop in to see us and stay out of the rain and cold this Winter! Advance booking is recommended. You can do that online through our website HERE!
Stuck for present ideas this Christmas?
Looking for something different to gift this Christmas? Look no further than a gift admission to Lemur Landings – Dorset's biggest and best award-winning soft play centre, situated on Tower Park Poole. There really is something for everyone, no child will be disappointed with a visit here.
We're open every day, expect for Christmas and Boxing Day, 9.30am – 6pm so there's plenty of opportunity to enjoy a day out here at Lemur Landings.
Standard gift admissions start with one adult and one child, but you can add as many extra children and adults required to tailor your present for that special someone.
Purchase yours HERE.