Lift Installation Elevates Accessibility for Less Able Visitors
29 October 2013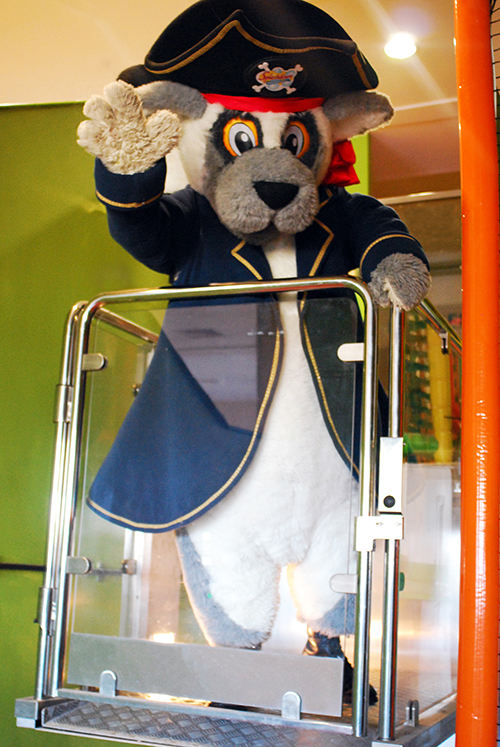 New accessibility platform lift installed at Lemur Landings Soft Play Centre
Lemur Leisure Ltd is pleased to announce the installation of a new accessibility lift and toilet at Lemur Landings, one of the largest indoor soft play centres in Dorset.
Lemur Landings is passionate about play and actively committed to ensuring much better access for visitors with accessibility needs and also assist the many visitors who visit with buggies. The new platform lift, located within the centre's café, will allow easier access to reach all of the centre's facilities; including the café bar, upper levels of the play centre and the toilets; including a new accessibility toilet.
The project has been made possible thanks to a grant from the Borough of Poole's Short Breaks for Disabled Children Capital Fund which has met the cost of the accessibility lift itself. The costs of the lift's installation have been borne by the soft play centre's parent company, Lemur Waterparks Ltd alongside accessibility toilet facilities. The Short Breaks Fund's primary aim is to provide better opportunities for disabled children and young people & improve the quality and the overall capacity for Short Breaks. Projects accessing the Fund should improve access to services for disabled children and young people and improve the range of available provision for families.
Managing Director Alan Richmond says: "We've wanted to do this for a while but it's an expensive business, however the grant has allowed us to bring this project forward and divert some money to enable us to install accessible toilet facilities also; this part of the project will be completed later on."
Poole Short Breaks host the exclusive use of Lemur Landings soft play centre for families of disabled children every Tuesday between 6.15pm and 8.15pm. All ages and siblings are welcome. Please call 01202 714700 for more information.
Situated on Bournemouth and Poole's premier entertainment complex, Tower Park, Lemur Landings is an empire of soft play for the Under 12's; with a massive multi-level play frame; consisting of a multi-slide, bridges, tunnels, ball pools and cannons; a dedicated area just for toddlers; a super sensory area for the under 5's and a climbing wall, children can run riot in a stunning environment whilst parents relax in the café.
If you would like to get involved with the project or visit Lemur Landings please call 01202 740500 or visit www.lemurlandings.co.uk for further information.